EXTREMELY RARE BACK ISSUES!
FROM DANA'S PRIVATE STASH!

WHILE THEY LAST, I AM MAKING SOME *EXTREMELY* RARE BACK ISSUES
AVAILABLE FOR SALE.
THERE ARE ONLY A *FEW* OF SOME OF THESE ISSUES,
WHICH I HAVE NEVER OFFERED FOR SALE BEFORE.
Grab these while they are still at SET SALE prices!
Issues #1-9 are a smaller size, when the magazine was a "half-legal" format (8 1/2" X 7").
Issues #10-14 are normal-sized (8 1/4" X 10 1/2").
THE RULES:
Some of these issues are only available in a few copies. When they are gone, they are gone.
If you order an issue, and it is sold out before I can fill your order, I am sorry!
I will refund your money for that issue. Please understand that this sale is
on a First-Come, First-Serve basis.
Copies are in VERY good shape, but may have a minor tear or a price sticker on the front.
Issue prices are SET -- please do not try to haggle with me.
Shipping prices are figured into each issue price. Please do not try and negotiate with me,
concerning shipping costs for multiple issues. This a SET SALE.
Sale is by Credit Card or PayPal only.
Sorry, no cash, or checks.
I use CCNow, a secure payment system, that I have used safely for many years.
My system is also set up to take PayPal, if you choose.
Good luck!



---
PAGE ONE
---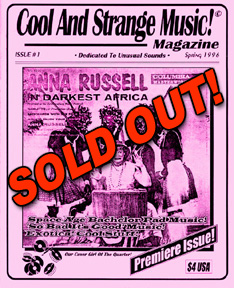 legal-sized format

THE RAREST OF THEM ALL!
FIRST ISSUE - XEROXED, with Pink Cover
SORRY, THEY'RE GONE!

#1 - ANNA RUSSELL, Space Age Bachelor Pop,
The Three Suns, Stereo de Luxe,
Spike Jone's Clothes, Hawaiian cover art,
Bob Jeremy interview.
---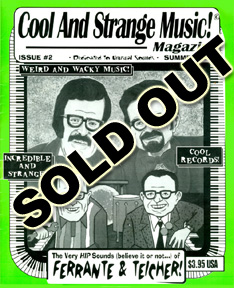 legal-sized format
#2 - FERRANTE AND TEICHER, Wesley Willis,
Free Design, David Letterman's records,
Brave Combo, Tom Lehrer, Esquivel's Lost Album.
Combustible Edison.
SOLD OUT

Price is $18 each.
+ $2 Shipping (USA, Canada, Mexico)
- - - - - - - - - -
+ $6 Shipping (Other Countries)
---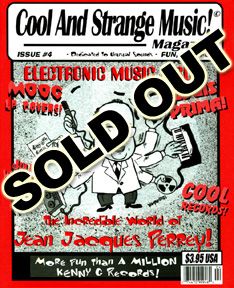 legal-sized format
#4 - JEAN-JACQUES PERREY, Louis Prima,
Julius Wechter interview, Raymond Scott, Part 2,
Moog LP Covers, Ukulele Expo,
Tiny Tim remembered, Electronic Music,
loads more.
SOLD OUT

Price is $16 each.
+ $2 Shipping (USA, Canada, Mexico)
- - - - - - - - - -
+ $6 Shipping (Other Countries)
---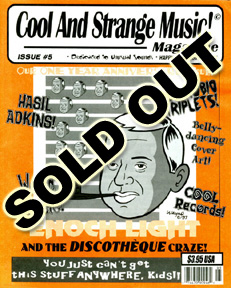 legal-sized format
#5 - ENOCH LIGHT, Hasil Adkins,
De Rubio Triplets, Space Ghost Interview,
Jack Mudurian, Barbary Coast records,
Belly Dancing LP cover art, Art Ferrante article,
Billy Mure, and Fun With Records.
SOLD OUT

---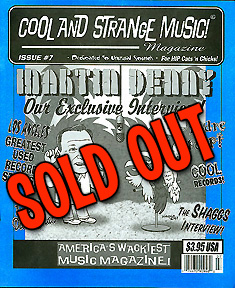 legal-sized format
#7 - MARTIN DENNY, Andre Popp,
Dick Hyman, The Shaggs,
Shaggs Recording Session, Les Baxter's "Space Escapade",
and the record stores of Los Angeles.
SOLD OUT

---
CONTINUE ON TO PAGE TWO OF THIS SALE