EXTREMELY RARE BACK ISSUES!
FROM DANA'S PRIVATE STASH!

WHILE THEY LAST, I AM MAKING SOME *EXTREMELY* RARE BACK ISSUES
AVAILABLE FOR SALE.
THERE ARE ONLY A *FEW* OF SOME OF THESE ISSUES,
WHICH I HAVE NEVER OFFERED FOR SALE BEFORE.
Grab these while they are still at SET SALE prices!
Issues #1-9 are a smaller size, when the magazine was a "half-legal" format (8 1/2" X 7").
Issues #10-14 are normal-sized (8 1/4" X 10 1/2").
THE RULES:
Some of these issues are only available in a few copies. When they are gone, they are gone.
If you order an issue, and it is sold out before I can fill your order, I am sorry!
I will refund your money for that issue. Please understand that this sale is
on a First-Come, First-Serve basis.
Copies are in VERY good shape, but may have a minor tear or a price sticker on the front.
Issue prices are SET -- please do not try to haggle with me.
Shipping prices are figured into each issue price. Please do not try and negotiate with me,
concerning shipping costs for multiple issues. This a SET SALE.
Sale is by Credit Card or PayPal only.
Sorry, no cash, or checks.
I use CCNow, a secure payment system, that I have used safely for many years.
My system is also set up to take PayPal, if you choose.
Good luck!


---
PAGE TWO
---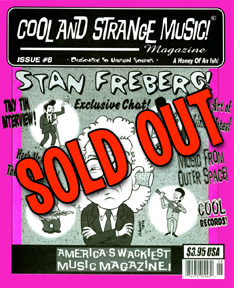 legal-sized format

#8 - STAN FREBERG, Herb Alpert and the Tia-Wannabe's,
"Music from Outer Space," Tiny Tim,
"The Art of the Liner Note," Latin Babes album art,
and the record stores of Milwaukee.
SOLD OUT

---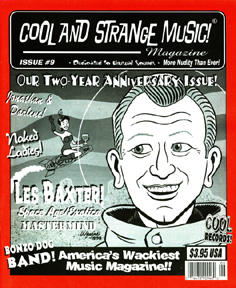 legal-sized format
#9 - LES BAXTER, the Bonzo Dog Band,
Jonathan & Darlene Edwards, Henry Phillips,
Naked Lady album art, and the record stores of San Diego.
SORRY! SOLD OUT!
---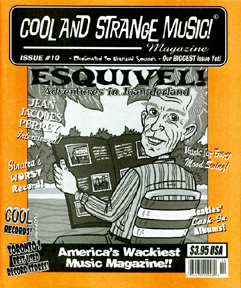 legal-sized format

#10 - ESQUIVEL, Jean Jacques Perrey,
"Music for Every Mood Swing," Beatles cash-in records,
the Space Cossacks, Hula Girl album art,
the worst of Frank Sinatra, and the record stores of Toronto.
ONLY NINE COPIES LEFT!

Price is $10 each.
+ $2 Shipping (USA, Canada, Mexico)


- - - - - - - - - -
+ $6 Shipping (Other Countries)


---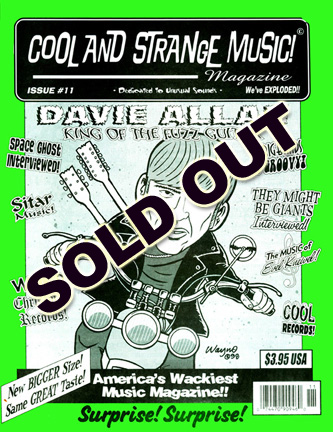 standard-sized format

#11 - DAVIE ALLAN, Big Bands Go Groovy,
They Might Be Giants, Space Ghost Interview,
Jack Davis LP Covers, Evel Kneivel,
StRange Christmas Records, Flipped-Out Kids' Records,
Sitar Records and the record stores of Kansas City.
SORRY, SOLD OUT
---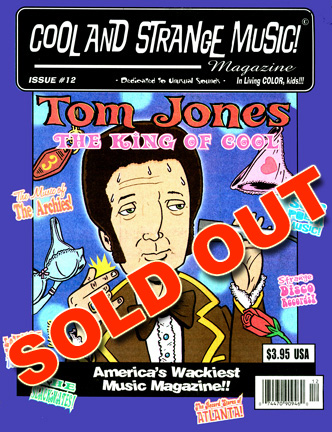 #12 - TOM JONES, Music of the The Archies,
Song Poem music, Strange Disco Records,
Strange LP Covers, Lounge Records,
The Slackmates, Flannigan's record finds,
and the record stores of Atlanta.
SORRY, SOLD OUT
---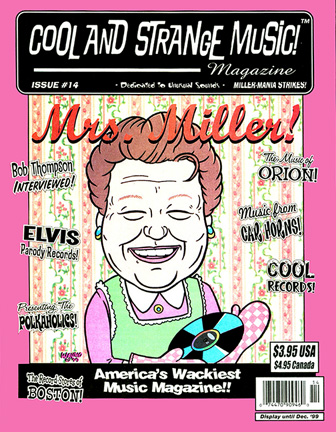 #14 - MRS. MILLER, Bob Thompson interview,
Elvis Parody records, Music from Car Horns,
James Bond LP Covers, Orion,
Walter Wanderly, Hidden Record Treasures,
Sitar Records and the record stores of Boston.
SORRY! SOLD OUT!

---
BACK TO PAGE ONE

Head over to: