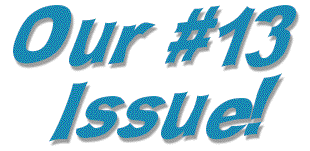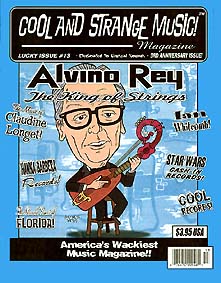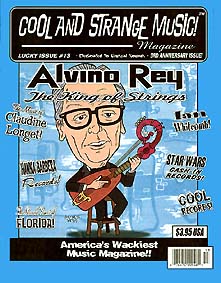 ---
JUST DISCOVERED! WAREHOUSE FIND!
The Number Thirteen issue features:
---
ALVINO REY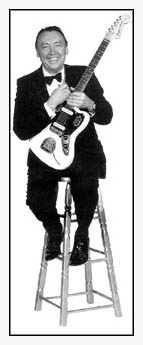 A cover story about ALVINO REY, pioneering big band leader, session player extraordinare (Esquivel, countless others), and father of the steel pedal guitar. Rey is a direct link to the big band era, started playing banjo and guitar in the '20s, and later helped pioneer the creation of the steel pedal guitar. With a career that spans over nine decades.....let us say that again...NINE DECADES, he's still playing music at age 94!!! Frank M. Young interviewed Mr. Rey exclusively for our magazine and even if you're not familiar with his music, you'll find this article fascinating.
---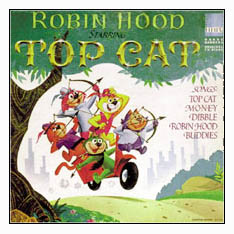 HANNA-BARBERA RECORDS
At the top of the list of rare children's records, among the rarest and most collectible are HANNA-BARBERA RECORDS. The people who brought you Huckleberry Hound and Yogi Bear, also sidelined in making some of the coolest kid's records ever. Commanding high prices now, these ultra-rare discs are the subject of Timothy Friend's fun article.
---
IAN WHITCOMB
An interview with IAN WHITCOMB, pop music historian, ragtime expert, ukulele plunker and former teen idol tells us all about his fascnating musical career. Beside his mid-'60s pop hit YOU TURN ME ON, he was also Mae West's record producer, and has worked with many famous and talented people. One of the music biz's truly nice guys, B.A. Nilsson's interview with Whitcomb sheds some light on Mr. Whitcomb's unique and delightfully eccentric talents.
---
FLORIDA RECORD STORE REPORT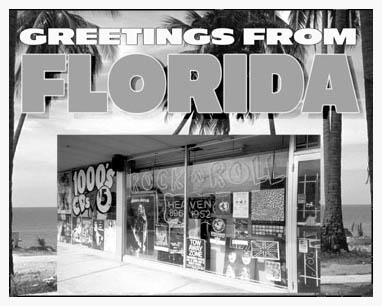 Take a tour though some of the coolest and strangest record stores in FLORIDA, in Bill Bartling's FLORIDA RECORD STORE REPORT. Find the coolest, strangest and cheapest records in our nations' most southeastern state!
---
CLAUDINE LONGET
Writer Curtis Cottrell gives insight into pop music's long-overlooked American-French Pop Waif, with his article on Claudine Longet. After years of musical neglect, her recordings are now coming into vogue with her EZ Listening-kitchy pop sensibilities. Find out the scoop behind the scenes about her life with former husband Andy Williams, her accidental (?) shooting of former boyfriend Spider Sabich, and much more. Discover why people are just now picking up on Claudine's LPs after decades of non-interest.
---
THE ED KAZ KOLUMN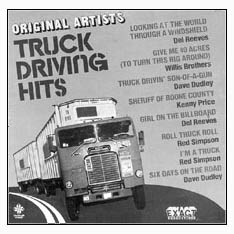 Ed's column this issue delves into the netherworld of that '70s panthenon of pop, TRUCKING SONGS! Just a brief footnote in the fad-infested decade that brought the American public Mood Rings, Puka Shell Necklaces and full-frontal nudity in movies, the short interest in CB and Trucking songs spawned many such-themed LPs, which Ed shines his humorous light on! 10-4, Big Buddy!
---
LINGERIE AND BIKINI LP COVERS CENTERFOLD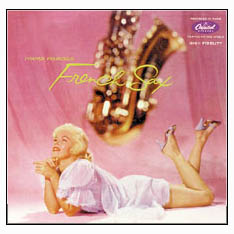 Our Color Centerfold is a spread of some of the sexiest covers ever, featuring Ladies in Lingerie and Babes in Bikinis! Our readers have submitted these eye-catching LP covers, and we're happy to show them off here, in a brazen display of pure commercial sexism!
---
STAR WARS RECORDS
With the release of the newest in the series of George Lucas' Star Wars films, writer Rod Lott takes us on a tour of those records that boldly cashed-in on the biggest science-fiction phenomenon of all movie history. They were many, many LPs released with "Star Wars" connections unleashed on the American public, from Meco to Ferrante and Teicher, and we light-heartedly discuss them here!
---
ED "MOOSE" SAVAGE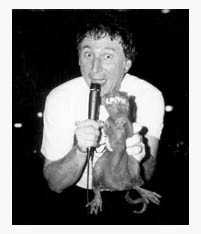 Regular contributor David Greenberg interviews our favorite new Cool and Strange recording artist Ed "Moose" Savage in this issue. Ed "Moose" is a one-of-a-kind entertainer, performing without a band, just a drummer, in a kind of a cappella stream-of-conciousness, to a steady live drumbeat. You haven't lived until you've heard Ed's song "Iceberg Lettuce," a hilarious, rhythmic rant about the vegetable kingdom's most overlooked dinner accoutrement. Never one to write songs about mere romantic love, Ed chooses to pen songs about the price of teabags and bad freeway driving. We love Ed, and chat with him at length about his unorthodox career!








---


THE MUSIC OF HAWAII
Virtually any thrift shop visit will yield armloads full of albums devoted to Hawaiian music, and Jonathan Schoeder and Janet Borgerson's article sheds light on the best of them! One of our favorite genre's, Hawaiian music (both authentic and commercial) is a unique blend of America's favorite pasttime of exploiting an idyllic lifestyle into both a tourist memento and a sub-species of records that has the best of both worlds - great covers and great, peaceful music.










---




Tie it all together with lots more loads o' fun stuff than we dare mention, and you'll find a very cool Issue #13 of COOL AND STRANGE MUSIC! MAGAZINE.
So get on board! It's gonna be a cool ride throught the wild, wacky and sometimes tacky world of records!