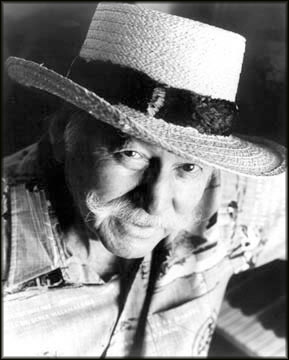 MARTIN DENNY, GODFATHER OF EXOTICA MUSIC, PASSED AWAY ON MARCH 2nd, 2005, AT THE AGE OF 94.
Author's Note: I interviewed Martin Denny, on July 4th, 1997, at the height of the reinterest in "Exotica". The interview was published in my magazine, COOL AND STRANGE MUSIC MAGAZINE, with Mr. Denny gracing the cover. (That issue was sold out long ago...)
I found him to be a talkative fellow, who at that time was 86 years old. After our interview, I promised to send him a transcript of it to his home in Hawaii, before it was published. Upon receiving it, he phoned me, insisting on making changes in the way he spoke in the piece. I remember he particularly didn't want to see any mention of the word "Well", at the beginning of his sentences (!)
He also wanted to remove his mentions of his admission that many of his later albums were "ghosted" by other pianists and musicians. But former bandmate Julius Wechter had spilled the beans about that fact in a previous issue of my magazine, so Denny had to fess up. It was the first time he'd ever spoken of the ghosting in an interview.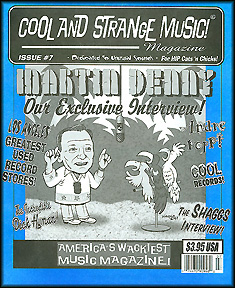 I was also very happy that he came clean about the fact that he didn't play a note on the "Exotic Moog" album -- something I'd suspected for a while. (Clark Gassman played the Moog, as he did on the excellent "Ralph Carmichael Presents THE ELECTRIC SYMPHONY - probably only only Christian Moog album ever!)
So, this interview was somewhat of a painful experience, with Denny phoning me a total of three times to dictate changes he wanted. At least one great story was chopped out of the piece -- an anecdote about touring with Betty Hutton. Unfortunately, I seem to have removed that story from the original text, and it's been lost, but if I locate it, I'll add it in here at some future date.
There also wasn't enough room to run the entire interview, because of space constraints, so a lot of it was edited out by me.
Of course, I was grateful for the interview, and it was a big honor to have spoken with him. I'm a fan, and I have a lot of respect for Mr. Denny, but I always told myself that when he has left this mortal coil, that I'd publish the entire 27,000 word interview. So, here it is....
(By the way, all photos are "clickable" to large, hi-res versions, suitable for printing!)
---
Dana Countryman: Thanks for doing this interview with us, Mr. Denny. I'd like to talk about a few of the things that really haven't come up in past interviews that you've done.
Martin Denny: Well alright, that's fine.
DC: I know that in your early years you toured around in South America. Can you tell me about that?
MD: Well, when I was 20 years old, this goes back to August 5th, 1931, a group of us went there, (there were six Americans). Our ages ranged from 22, down to 18, and we had a 6 month contract to go to Bogata, Columbia. And of course, it was during the depression, we were still with our parents, and things were still pretty tough on them back in the United States.
They told us that if we could keep working down there (South America), well, we should. So we freelanced our way down the West Coast, going down to Lima, Peru and Santiago, Chile and eventually to Buenos Aires, Argentina. We spent 3 1/2 years there.
DC: What kind of music did you play there at that time?
MD: Well, we played the music of the day. The kind of things that were popular, like Bing Crosby's "When The Blue Of The Night Meets The Gold Of The Day," "Midnight Sweetheart," and all the popular tunes of that period.
DC: So you played mainly the music from the U.S.A.?
MD: Yeah, we played "Hold That Tiger". We were jazz, we played Dixie at that time. We also picked up on the local things, you know, the music that was played in those countries. And of course, we made two trips to Rio de Janiero and we played at the Copacabana Hotel.
DC: That must have been some of the early South American/Latin influence for your own music.
MD: Exactly. So I would consider that it was my first professional tour, although I had played before that when I was going to school.
DC: I understand that you were somewhat of a child prodigy.
MD: Well, I don't know about prodigy! I guess I was a pretty talented youngster, though. I started with classical music, and it gradually evolved into popular music.
So some of my experiences down there (in South America) were highlights. One was being involved in a revolution in Chile while we were there, by coincindence. A revolution broke out on June 7th, 1932 and I spent my 21st birthday in Lima, Peru.
So, here we are in Santiago, Chile and the President had absconded. There were mob scenes and people were all up in arms. It was pretty grim. We had to leave the country because there was complete chaos. So we were able to book passage on the first plane trip I ever made. It was a Ford Tri-Motor and we had to go over the Andes at a height of over 16,500 feet. We had to breathe through oxygen tubes in those days. This particular plane was called a "San Jose" and it was later lost in the mountains, and wasn't recovered until a year later.
But when we got to Buenos Aires, we didn't have any bookings. When we arrived, we checked into this hotel. We were one of the first ones to bring news of the revolution, because all the wires had been cut off. We were interviewed by newspaper reporters who came up to our room. One of the boys in the band, his name was Noble Dunn Montero. Now "Montero" also happened to be the name of the absconding Chilean president. And so we read the headlines in the paper that an American orchestra was traveling incognito with the deposed president's son!
DC: Obviously, that wasn't true!
MD: No, and the press had to retract the statement. I still have the paper, although it's yellowed with age. It's dated June 7, 1932.
So then, as a gag, we flew over Buenos Aires on this plane with our instruments, and the pilots turned off the engine. So as we glided silently, we played "Fight On For Old S.C." over the two loudspeakers that were attached to the wings!
DC: The people on the ground must have wondered what was going on!
MD: Well, it sounds rather bizarre, but it's true. I spent 4 & 1/2 years down there and it was one of the great experiences of my life.
DC: So is that when you started playing more Latin-influenced music?
MD: Well, we were influenced. We out started playing nothing but American music, but along the way we started playing some other native music. Of course, as far as rhumbas and things, they came from Cuba. My first recording was done in 1933 on Victor.
DC: Was that under your own name?
MD: No, no. We were called Los Studientes de Hollywood, "The Students Of Hollywood". The group was headed by a fellow named Don Vien. He fronted the band, and he was a good looking jock. It was a natural for him, because he'd had much more experience than we'd had. But we were a typical bunch of young kids from the States. I think we were the first band to freelance our way down the coast. It took a lot of guts on our part, you know.
DC: And you came out of what state?
MD: California, we were all living in Los Angeles. Now, I'm the only living member of that group. There was the six of us originally and they're now all gone.
DC: Did you keep in touch with them over the years?
MD: Oh yes, we kept in touch. The last of 'em, Red Radem, he was my buddy. He passed away not quite 5 years ago of cancer. But you know, we represented the youth of America at that time.
DC: Who were some of the musical artists that you admired at that time?
MD: Well, we liked Louis Armstrong and of course, Ray Noble. But as I say, we played modern ballads of the day, "I'm Through With Love", " I Never Had A Chance", "I Surrender, Dear", a lot of Bing Crosby songs. Bing Crosby was very popular at that time.
DC: He was gigantic!
MD: Yeah, and there was another singer who's songs we did, who was almost Crosby's rival. What's his name...
DC: Russ Columbo?
MD: Right, Russ Columbo. Of course, he died. But we had a powerful influence on the local music scend when we came to Bueno Aires. We played the first nightclub where a man could take his sweetheart. It was a very macho country at that time. If you went out nightclubbing or things like that, you wouldn't have dreamed of taking your wife or sweetheart.
We also played for the American ambassador, there was a lot of society that we were exposed to then. We opened up another nightclub called "The Whoopie", it was down in the basement of a building, and we were able to draw a lot of people from society. And we packed the place nightly, and then from there we did a tour through the south of the Argentines.
DC: So you really covered a lot of ground.
MD: Oh yeah, we played a lot of places that had never heard an American jazz group.
DC: Were all of these bookings placed through an agency?
MD: We had a manager who arranged the tour, and then he ran out on us while we were down in some little town in Argentina and left us stranded. Eventually, we got back to Buenos Aires and opened up this nightclub. When we first got down there, we got a lot of bookings on the strength of the publicity that we got from the papers. We played at the Broadway Theater, and oddly enough, our opening theme song was "Song Of The Islands" and we closed with "Aloha Oye". So, it was sort of prophetic that I would eventually come here to Hawaii.
DC: What year did you come back to the States, then?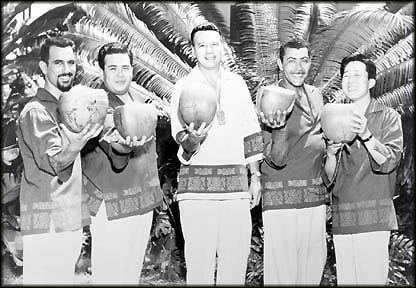 MD: Well, we came back at the end of 1935. The band had broken up. Dean remained behind, married and had three sons and a daughter who did very well in later years, and are very well-known down there (in South America) in the entertainment business.
But Dean passed away quite a number of years ago. But I would say that touring in South America had a very powerful influence in my life.
DC: What kind of music did you play between the years that you returned to American and when you started recording for Liberty?
MD: It was the big band era, I played with several big bands. When I came back in 1936, I played with a fellow named Giggy Royce. It was a 14-piece band, and it took me a while to get in the swing of things. It was quite a transition for me. Our first engagement was at the Multnomah Hotel in Portland.
An engagement that he had for us to go to Honolulu fell through. Giggy asked me if I wanted to stay with him, because he was going to reform the group in Honolulu. But being that I had just come back from South America, I didn't want to get lost again for another 4 1/2 years. As far as I was concerned, Hawaii was just a place on a map, you know. Just a place that had hula girls and palm trees.
DC: So you stayed in Los Angeles?
MD: Yes, and I played with different bands.
DC: Any name bands?
MD: Well, I played with Jimmy Grier who was well-known on most of the West Coast. And in later years, I did a lot of tours, including one with Betty Hutton.
DC: Yes, I wanted to ask you about that. I'm a big Betty Hutton fan.
MC: Well, let me see...that had to be about 1949. We did a tour of veteran hospitals. And I also did one with Ruth Warrick. She at one time played the lead in "Citizen Kane". And then I played a lot of private parties for people like Cary Grant, Kay Francis, Frank Sinatra, people like that.
DC: Was this just solo piano?
MD: Yeah. And somewhere in between I did several gigs in Las Vegas. I opened the Sands Hotel, just playing piano. That was '53. The next time I played there I headlined with my band. But I didn't form the group until I came to Hawaii.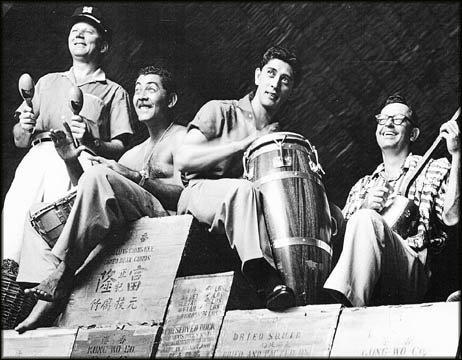 DC: And what brought you over to Hawaii?
MD: Well, I had a friend, Bill Howell who was playing Don The Beachcombers in Waikiki. He recommended me to Don The Beachcomber. Bill was leaving to play another hotel, and so he recommended me to Don Beach. I got a wire over Christmas in 1953 from Don, offering me a six month contract, asking me if I'd be interested in playing the Dagger Bar at his place in Waikiki.
Well, I was playing at this little place in Eureka with a trio and I wasn't too happy about it. And so this was very exciting to me. So I was destined to go to Hawaii. So I started at Don The Beachcombers in the first part of January.
DC: Solo, again?
MD: Yes, solo for about 6 or 7 months, this was in 1954. At that point, I was going through a divorce. I'd gone to Las Vegas and got the divorce. We'd been married not just 5 years. We parted amicably, but it was kind of rough on her being married to someone who was constantly on the road, and wasn't making too much progress career-wise.
So I got more serious about what I was going to do with my life. When I was in Las Vegas, I played with various bands in showrooms. The band would play on the night off for the local hotel bands and we'd back all the different acts. So I'd been advised by good friends of mine to come back to Hawaii. Oh, I loved Honolulu, playing at a place right on the beach at Waikiki!
DC: No, you can't argue with that!
MD: So I came back and promoted a job for myself playing at the Royal Hawaiian Hotel, in the Surf Room. And after I'd been there several months, Don The Beachcomber asked me if I'd like to come back again. And I said, "Well, under one condition - I'd like to form a group." Because I was getting bored just playing piano alone.
So they agreed, and I decided to come back. So I alternated playing the cocktail hour at the Royal, then I'd run across the street with the group and play. At the time I organized the group, I got two musicians, Arthur Lyman, who at that point was about 21 years old and was working as a desk clerk at the Hailakalani Hotel.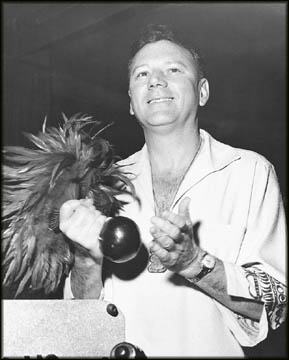 The other was John Kramer, who worked for the Territory in the accounting department, and he played bass. And that was my first group, we were a trio. I didn't have any set formula, so I bought a bunch of folio books of George Shearing. We played arrangements like "September In The Rain", "Roses Of Picardy", all of his tunes. We sounded more George Shearing than George!
DC: Now, would you consider him an early influence? It seems like your piano style is particularly chord clusters in the Shearing style.
MD: Oh yeah, that was the thing to do at that time. This was before the new wave of bebop started.
DC: How long after this was it that you added your percussionist?
MD: Well, eventually I left the Royal and concentrated on the gig that I had at Don The Beachcombers. Towards the end of the year, Henry J. Kaiser was going to open his new hotel. He was able to get ahold of Alfred Apaka, who was the star at that time featured at Don The Beachcombers. He was playing in the main room. Towards the end of the engagement, I had asked for a raise for my boys and they turned me down.
So I was offered a job by Alfred, who at this time was performing at Henry J. Kaiser's Hawaiian Village. So Kaiser's people came down and listened to the group, and liked it very much. We were playing more of less straight jazz. So I agreed to go with him, but just before we left, a fellow came up to us from the audience and asked if he could sit in with us and play bongos. His name was Augie Colon (pronounced "Cologne"), and Augie must have been about 22 or 23 years old.
He was a good-looking Puerto Rican boy, and he played up a storm with me. We played some Latin things, and he got a tremendous hand. I would invite him to come up anytime he wanted to sit in with the group, so he would show up every evening! It really enhanced the group, because we didn't have a regular drummer. Lyman would play stand-up drums occasionally. So, through my influence I was able to get Augie a job to stay on and play with the group that followed me, that I had recommended to Don. We parted good friends, and I told him that I would help him replace my group, when I left.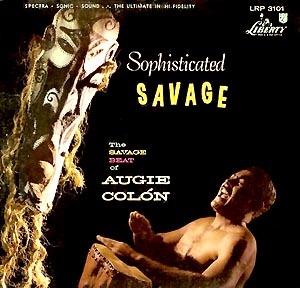 So I recommended a jazz player named Bob Laine, who was a very fine pianist. He brought a jazz trio with him, but he didn't know what to do with Augie when he inherited him. The poor guy was out on a limb, Augie was very unhappy 'cause he loved my group. So after we opened at the Hawaiian Village, I was able to prevail upon Alfred Apaka to get him to join the group. That was in 1956 when I added him into the group. At that time, I would break him in gradually just playing Latin tunes. But he wouldn't sit in with the jazz numbers that we played. He was very flamboyant, he wore these Cuban outfits, but he was very macho and the women really went for him in a big way. Anyway, I started developing this sound.
DC: Was that about the time that you started taking American standards and making them more tropical sounding?
MD: Well, the way that started was that part of my training was how to make a small group sound larger than it really was. So I would use a lot of different percussive effects, and then I started collecting instruments from the South Seas and from the Orient, also from Latin America.
The music became a quasi-mix of music from the South Pacific, the Orient and South America. We were always experimenting, and trying out new ideas. Of course, that's when we added the birdcalls on "Quiet Village". There was such a tremendous call for it. I kept getting repeat requests for it, I mean, during the course of an evening I had to play that damn thing maybe a dozen times!
DC: So I guess you'd consider that a major turning point for your career.
MD: I would say yes! Then I realized that by using different instruments from the Far East, I could build little arrangements around them. Like for instance, I did a thing called "Cobra". It was imaginative.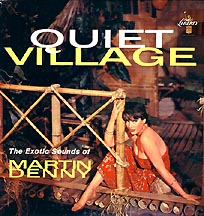 Somebody brought me a flute, like the snakecharmers used. And then I got a wicker basket and put a phony snake in it. Then I had a nylon cord attached to it which went through an eyelet in the ceiling, and I could operate it from the piano. When I pulled the string, it opened up the basket and the snake would come out and start dancing around! Augie had a turban on his head and he was stripped to the waist. He would go through all these motions, playing the cymbals and bongos. My bass player learned how to play the flute. It was that kind of showmanship that started getting us noticed.
DC: So more and more people started coming to your shows.
MD: I didn't mention that when I got back I had done a tour with Hildegarde. I was with her for a year and we traveled all over the country, playing the top hotels. I learned a great deal of showmanship from her. I played piano and she had a big traveling orchestra with her. So I played second piano and she paid me $50 a week extra for coaching her. She was a tremendous star in her own right. I learned a lot about lighting and presentation from her. A lot of it rubbed off on me.
DC: When did you start dressing in the Hawaiian shirts? I notice in a lot of the pictures, you're wearing them.
MD: Well, we had them designed for us. We wanted Polynesian designs that looked natural on us. They were very sharp-looking. One thing that I believed, was that we should look well-groomed and that was our uniform. So then we cultivated relationships with a lot of the air traffic personnel, like pilots and stewardesses.
They would bring me back instruments, and I would work up little arrangements around them. I realized that the crowd we were playing for was a real melting pot. So I would cater to the tastes of the people who came in who were Filipino, Portuguese, Puerto Rican, you name it. We had a great following in the military, and we cultivated many friends.
DC: Now, how did Liberty Record discover you?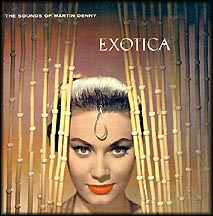 MD: Well, we had been at the Shell Bar for almost a year. The editor of the Honolulu Advertiser recommended us to a manager who had clients like Liberace, Lawrence Welk, and a lot of other very well-known celebrities.
So they heard the group and approached me. Arnold Mills was the associate manager, and he managed me. I signed a contract with him that included an arrangement with Liberty Records.
DC: Oh, they had a connection with Liberty Records!
MD: Yes. By this time the group was pretty well-established and I had developed my style.
DC: When you first signed, did Liberty seem enthusiastic about the group?
MD: Well, they went along with it because they were sold on the idea of us. Si Waronker had heard some of the tapes, and he thought that they had a very exotic quality. He was the one who came up with the idea of calling it "Exotica"!
And so in late 1956 I recorded at the late Webley Edwards' studios. He was the only one at that time that had Hi-Fi studio equipment. So in October of 1956 we did the entire album in one session. All I had was an allowance of $850 to do it. I was 20 minutes short and I had to beg the engineer, Bob Lang to go overtime for us. When the album was released it sold 400,000 LPs at the suggested price of $4.95.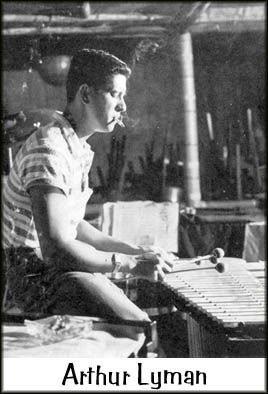 Henry J. Kaiser was very upset about my leaving, because I had been doing so well at the Shell Bar. We had been cramming the place every night. So he really put the pressure on me, he didn't want me to leave. But it was one of the most important decisions I every had to make in my life. I was giving up so-called security. He tried everything he could do to break up my group. Eventually, he did get two members. He got Arthur Lyman, who was my vibe man.
DC: I wanted to ask you about that. How did you feel when Lyman left? That must have been a major blow.
MD: Well, he announced that he was going to leave. I said okay, I would have to replace him. But I was a little upset about the manner in which he left, because he was going back to the Shell Bar, which I had opened. Henry J. Kaiser wanted the same kind of sound. So actually, when Arthur went back there, he was a carbon copy of me.
DC: That seems pretty obvious, listening to his recordings.
MD: His wife became his manager, and there were certain disagreements between us. But we still have "Aloha" for one another, and I see him quite frequently. Although at the time, I was a little resentful of the things that were happening.
DC: It seems like all of a sudden he was becoming your competition, in some ways.
MD: Yeah. It was like they were going down the same path as I was. But there is no animosity now, as far as I'm concerned. So after he told me he was leaving, I had to go through a major change and find someone to replace him. So I went to the mainland on a couple of quick trips, and I heard several vibe men and I got wind of Julius Wechter through his former teacher who I contacted. This teacher told me that he had a student who was very promising.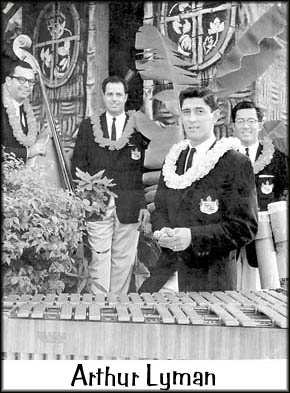 When I spoke to Julius first on the phone I asked him what instruments he had. He didn't have a Deagan, a good enough instrument. That made me kind of leary, because a musician should have a good instrument. So I auditioned some other people, but I still hadn't committed myself.
Then I got a letter from Julius, who was only 2 years out of high school and was working for Lockheed or someplace as a timekeeper. He sent me a nice letter that said if I hired him, he promised that he'd be a great asset to me. It was a very nice letter. So I said "okay", and so I hired him. He came to Hawaii with his wife and little boy. I thought he was a great asset, he had tremendous ability.
DC: He did some arranging for you, didn't he?
MD: Yes, he did quite a bit of arranging and I gave him a lot of liberty to work creatively. Of course, I had a format and he had to work within that format. Later, when he decided to go out on his own, he'd been with me for 4 years by that time. But he had my blessing and he felt that he wanted to go to the mainland. The rest is history.
DC: Right, he became a major West Coast session player.
MD: Subsequently, I had a number of personnel changes but basically my style of music remained the same. But it started advancing and eventually started getting into other styles of music.
DC: I wanted to ask you about that. When we interviewed Mr. Wechter, he made some comments that you might have stopped playing on some of the albums and that they had been recorded by other musicians.
MD: Well, to be truthful, I had a lot of "ghosting" done.
DC: And that started in the '60s?
MD: Yeah, I was traveling quite a great deal at that time and the product had to keep coming out. Of course, Liberty Records was using my name and I really didn't have too much choice about that. The management made those decisions and they always dangled that reward at the end of the road. They said "you gotta do it", so I had to go along with it.
DC: Do you recall what album the ghosting might have started with?
MD: Well, I'm looking at one of them, "Spanish Village". I personally never would have approved of a thing like that. They used saxophones and the like. Some of the albums were done very well. They were formulated with the idea that this was "Martin Denny". I'm not really happy about that part of my career.
DC: How involved were you in the "Exotic Moog" album?
MD: Well, I attended some of the sessions. You know some of those were done in New York City with a studio band. I haven't discussed this phase of my career with anyone.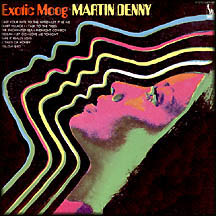 DC: Well, I really appreciate you sharing the honest truth with us. A lot of your fans have expressed interest in learning more about that particular period of your career. You know, that "Exotic Moog" albums is considered one of the most highly collectable Martin Denny albums.
MD: I know, it was my idea, but I was never too enthusiastic about that particular medium. It was like working for a big corporation, which Liberty became. They were determined to keep me in the groove, you know.
DC: Now, once this ghosting began, did you still have a hand in recording, or were you pretty tied up with touring?
MD: I was pretty much tied-up on the road. So I participated in some of them, but not all of them. I never divulged that, nor did the company. But that wasn't uncommon among many artists.
You've got to remember, it wasn't vocal - it was purely instrumental. What they did was use my name, and try and come up with an approach that approximated my playing.
DC: And then you still received your normal royalties on those records?
MD: That's right.
DC: You know, I have some of those records, and they just don't hold the same interest for me. You associate the Martin Denny sound with the melodic, tropical tunes, not so much with the freeform jazz stuff that the ghosted albums became later.
MD: Well, those early albums were the ones that I actually participated on, they were part of me. Ironically, those albums are becoming so popular now. Capitol just released a double CD of 40 selections.
DC: I have a copy of that right here.
MD: And Scamp Records just sent me the new releases which will come out at the end of this month, which are "Exotica" and "The Enchanted Sea".
DC: They've done an excellent job on all of those.
MD: I did the liner notes on all those, and I tried to set the record straight. (I wasn't trying to make a pun!)
\No, but what I said in the liner notes is absolutely true. You know, one thing I've always said...I never took credit for my musicians. All I did was direct their talent into my style.
DC: That's a very generous thing to do. I know a lot of leaders who have had a hard time letting their coworkers have much creative output. For example, to let Julius Wechter have a hand in writing and arranging, that shows a lot of graciousness and trust on your part.
MD: Well, he was compensated for it. But you know, what rankles me a little was in Cool And Strange Music Magazine's interview with Julius, where he was asked what his favorite Martin Denny Group album was, and he said there wasn't any!
You know, when he left the group he formed the Baja Marimba Band later on, after the Tijuana Brass Band became successful. He depicted this band like the stereotype a lot of people think Mexicans are; lazy, shiftless, and went out there as bearded scalawags.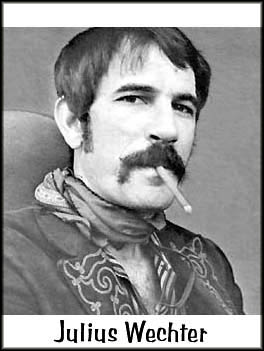 That was the premise of his appearances, but they were a direct takeoff of the Tijuana Brass. And then, him wanting to do a song that came from "Deep Throat"! I mean, why?!!
DC: Maybe it would have been one of the bad business moves of all time, but it never did happen so I guess that says a lot.
MD: But the guys had the greatest respect for him, they loved the guy, you know. He was very easy to get along with. And we traveled all over the country, and he brought his wife and kid with him.
It was kind of hard, but he did it. And I'm glad for his success, very happy about it. And I had some other talented people in the group. One of them just passed away recently, that was Hagood Hardy. I don't know if you know him.
DC: Sure, he recorded "The Homecoming".
MD: Right. He was one of the more talented replacements I ever had.
DC: He was Canadian, wasn't he?
MD: Well, no. He resided in Canada, but he was born in the United States.
DC: And he played vibes, too?
MD: Oh, he played great vibes. He was a wonderful jazz artist. He played everything...he played good piano, too.
And I got a letter recently from his wife. She sent me two CDs that he recorded before he died. I also had a number of other replacements. But anyway, I had a very interesting career...
DC: Now, this kind of brings me up to modern times. I know that you did the interview with the Incredibly Strange Music book in 1993.
MD: Yes!
DC: That must have been, from my perspective, the start of this whole resurgence of your popularity.
MD: You're right! You hit it right on the head.
DC: You must have been shocked by the sudden reinterest after all the years that you did your recordings. Were you surprised by all the new interest?
MD: I don't know if I was shocked. I always considered my music was ageless. I didn't go to create a pop tune or to make a hit record. I recorded because it was something I wanted to do. I was able to alter a song and make it different, but I wasn't trying to take a pop tune and make it a hit.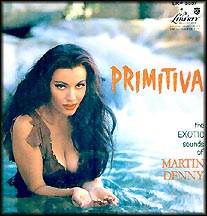 DC: But all of a sudden, you had people coming to you for interviews and record companies wanting to re-release your records which had been in the vaults for decades.
MD: Yes, many, many things like that. I went to Japan on a tour that was very favorably received. I did a recording before I went over there, which I suggested. It was called "Exotica '90", and I did a repeat of many of the things I did earlier and I brought most of the original group together. I even used Arthur Lyman on a session, of course I used Julius.

DC: I don't think that's been re-released. I wonder why.
MD: Well, for reasons of their own, they wanted it only released domestically. Besides, my contract with them states that, if they release it in the United States, they have to negotiate a new contract with me. They can't just do it carte blanche, that was one of the stipulations we made. But let me say, doing business with them was a rather unhappy experience.
DC: Was this the Japanese company?
MD: Yes, it's Toshiba. It wasn't Sony that was mentioned in your write-up, it's Toshiba. They gave me the red carpet treatment, they wined me and dined me. They paid me up front and everything.
But after they got what they wanted, they just stonewalled me, completely. They've never sent me a yearly statement, nothing. All I received was a deep apology, and then when I tried to follow it up, there was no answer. So, it was very strange. But if they want to release it in this country, that's another bag.
DC: Let me ask you, what artists do you currently listen to? Are there any artist that are putting our modern music that you admire?
MD: Well, I'm appreciative of any good jazz. Musically, I like anything if it's done in good taste.
DC: Do you have a lot of records in your own collection?
MD: Oh, my gosh! I've got way over a thousand. There's no way I'll ever be able to play them all. But I also have a lot of classical things, too. I have a genre of practically all the great jazz artists.
DC: Do you have any complete collections of any specific artist? For example, you mentioned Louis Armstrong...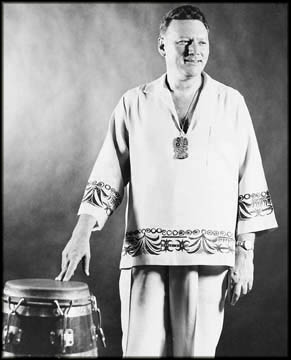 MD: Well, I don't have any complete collections, but I have a lot of modern artists like Herbie Hancock, Chick Corea - who I admire very much.
DC: Dave Brubeck?
MD: Dave Brubeck I know personally. Yeah, I admire them very much, in fact, I play a lot of Dave Brubeck's things on piano.
DC: Do you still get out and perform? I know you're somewhat retired now.
MD: Well, I do volunteer work at this point. Once a week I play at the St. Francis Hospice, it's for terminal patients. And I've been doing that for the past two years.
DC: That's great! Well, I just have a couple more questions for you here. I know that Les Baxter's music was a big influence on your transformation into the early tropical stuff.
MD: Yeah!
DC: Do you have any remembrances of Les Baxter?
MD: Well, I gave a concert at the Shell some years ago, and I invited him to conduct some of his compositions. But I think there was a little resentment on his part that he wasn't too happy that I was getting all this credit for a performance of "Quiet Village".
People always associated it with me, as being the writer, which I denied vehemently. I always gave him credit for everything he ever did. At first, he denigrated the bird calls, but later on I got a request from him, asking if I would send him a tape of birdcalls! But he was a friend, he was a guest in my home. I had an amiable relationship with him.
DC: Yet you never recorded with him?
MD: No, no. But he did the liner notes on one of my albums. That was one of the things, I had some very prominent people doing the liner notes for me, if you look at the back of them.
Of course, the one that I treasure most is James A. Michner. He was pretty sincere. There was also Ferde Grofe, Sturgess, Louella Parsons, Walter Winchell, people like that.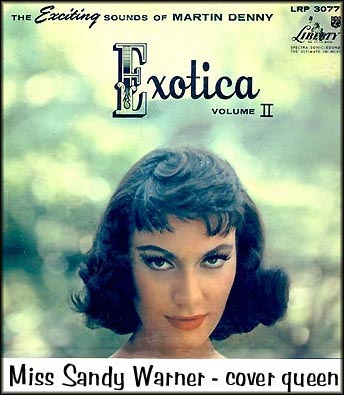 DC: Well, you mentioned the liner notes on the backs, what can you tell me about Sandy Warner, who graced the covers of most of your early albums.
MD: I never really had any contact, or anything to do with her, or any of the artwork.
DC: You know, there's practically a fan club, springing up over the covers that she did for your records.
MD: That's funny. I guess a lot of people bought the album on the strength of her pictures.
DC: I guess it helped!
MD: Later on, she did an album and I did the liner notes for her. Steve Allen produced it, and nothing came of it.
DC: So you don't know if she's still alive, or anything like that.
MD: I haven't the slightest idea. But a lot of people write me fan mail letters, asking where they can contact her. She's a grandmother by now.
DC: I'm sure she is!
MD: I finally did get to see her. She came to Hawaii and sat in the audience right in front of the stage. After my performance, she sort of waved at me to come over. I walked over to her table, and it turned out that she was on her honeymoon. But I didn't know who she was.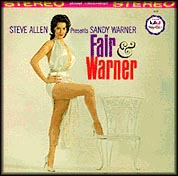 Then she said "You and I have a lot in common." And I said "Oh, really? What's that?" She said, "Well, I'm the girl on your album covers!" I looked at her, and said "My God, you're right!" (Laughs) But that's the one and only time I ever met her.
DC: Are you currently working on anything else, musically?
MD: Well, I tell you, I just recently got a call from the president of the musicians union and they're trying to line me up with a performance with the symphony orchestra here. The last one I did with them was in 1995 on Labor Day. I used part of my old group.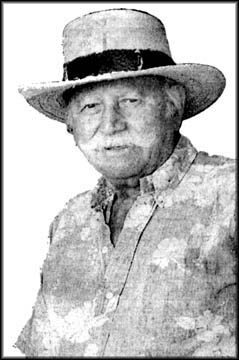 DC: One last question, I have a recording of a demo by a new group called Don Tiki. Tell me how you came to record with them.
MD: Well, they called me and asked me if I would do a piano track on "Exotica", so I did that. What I did was almost a replica of what I did before.
DC: It sounds great, kind of updated for the '90s.
MD: Yeah, but I added a few more flourishes. While I was in the studio with them, I did an original that I just had written and they like it so much that they asked me if they could use it. It's called "I Love You Forever And Ever".
DC: What I've heard sounds really excellent.
MD: Yes, I wish them luck. What I'm considering in the near future is a solo piano album.
DC: That would be kind of like going back to the beginning, how you started.
MD: It would be just me, doing my thing. Just an accumulation of everything I've done.
DC: Well, that would be great! We'd love to hear some more Martin Denny music!
MD: Well, I did an album when I was in Maui in 1978, called "To Maui, With Love". It was a piano album, and I did classical variations on things like "Tiny Bubbles", and things by different composers. Of course, I did repeats of several things like "Quiet Village", "A Taste Of Honey", and several other things.
DC: Great. Well, thanks for chatting with us. I appreciate your giving us this interview. I know people will be interested to hear what you have to say.
MD: Thank you.
*****
© 1997 Dana Countryman, all rights reserved. (e-mail me here.)
---

Author's Note: Special thanks to Ashley Warren of Scamp Records for many of the photos
used in this article, and to the late, great Mr. Denny for graciously supplying photos from his personal collection.