The King Sisters Biography
Solid Sisters of Swing
By Dana Countryman
One of the most dynamic and swingingest of all the vocal groups of the swing era may not be one you would immediately think of. No, I'm not referring to: The Mills Brothers, The Ink Spots, The Modernaires, The Pied Pipers, The Sentimentalists, The Skylarks, The Merry Macs or the Mel-Tones.
Here's a hint...they were sisters and gorgeous. No, not The Boswell Sisters, The DeMarco Sisters, The Andrews Sisters, The Dinning Sisters, or The Clark Sisters. Okay, one more hint. They were Mormons, later had a lot of kids and were a kind of model for The Osmond Family. Well, since you've already peeked at the title of this article, then you know I'm talking about the King Sisters.
Although not as popular as some of the groups listed above, the King Sisters stand out from the bunch with their unfailing sense of rhythm, perfect intonation and bubbly personalities.
---
Childhood Days
The patriarch of the family, William King Driggs (known as King) was a professor of music and voice teacher at various colleges in Colorado and Utah for fourteen years. As the children began to arrive shortly after WWI ended in 1918, they were given music lessons on various instruments by their father. The size of the family began to increase and it became more difficult to stretch a teacher's salary, so the Driggs family began to supplement their income by performing as a family orchestra during the summers and on weekends, traveling all over the West, while the girls were still children. The family continued to grow until there were six girls and two boys. Times were tough financially, and the family was usually just one step ahead of the bill collector. More than once, they woke to find their car had been repossessed. Eventually, the family relocated to Oakland, CA, where jobs were more plentiful for music teachers.
Three of the oldest girls, Maxine, Luise, and Alyce formed a vocal trio and began performing in the Oakland area, while they were still in junior high school. According to Alyce (King) Clarke, their trio singing was organized by their father to break up the girls' arguing and fighting while they did the families' dishes. "He'd say, 'Luise, you sing this part. Alyce, sing this. And Maxine, this is your part.' And that was the start of our harmonizing."
In 1931, the three girls made their broadcast debut on Oakland radio station KLX. Because it was the depression, and music lessons weren't peoples' highest priority, their father's income had dropped to almost nothing. The money the Driggs Sisters earned from their radio show ($25 a week, collectively) actually supported the entire family. Performing three times a week, with their brother Karleton as their piano accompanist, the girls came up with their own arrangements themselves, using the training they'd gotten from their father. Like most singing sisters, the Driggs Sisters idolized the successful Boswell Sisters and tried to emulate their heroines by learning their songs and arrangements. The girls would rush home from school and faithfully tune in KFWB from Los Angeles to hear the Boswells sing their trend-setting harmonies.
In 1932, the family moved to Salt Lake City, Utah, when an offer came for the girls to become regulars on the powerful and influential station, KSL. They were hired for $10 a show, performing for 15 minutes, 5 times a week. The girls considered themselves very fortunate to be making $50 a week during the depression, and every cent was needed to support the still-expanding family.
---
Going Professional
The station manager disliked the name, 'The Driggs Sisters', and asked the girls to come up with a better one. According to Alyce King, when they couldn't think of anything, he asked them. " ' Okay, what's your father's name?" We said 'King.' So he said, "All right, now you're 'The King Sisters.' " Sometime in 1934, bandleader Horace Heidt heard one of their KSL broadcasts and convinced their parents to let the girls join his orchestra as special guests for a San Francisco engagement at the Golden Gate Theater. The King Sisters were ecstatic at their good fortune, but soon found that show business could be grueling. With Heidt, they performed four or five shows a day, seven days a week, for six weeks at a time.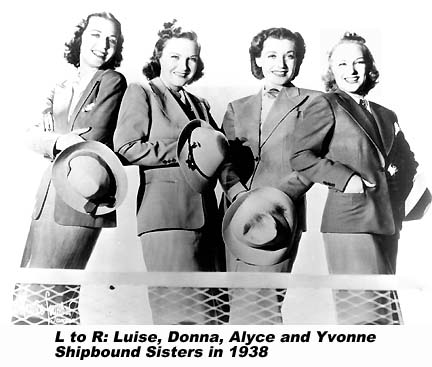 While the three oldest King Sisters were performing in San Francisco, two of their younger sisters, Yvonne and Donna, (aged 14 and 15, respectively), formed their own vocal trio with a friend and began performing at the Lake Merritt Hotel in Oakland on weekends. "We used to go over to see our big sisters in San Francisco", Donna (King) Conkling recalls. "They'd let us borrow some of their stage clothes, so we'd have all these glamorous dresses to wear when we performed at our own shows." The older sisters insisted that Heidt listen to their younger sisters sing, and he got the idea to add them to the group. Heidt billed the expanded vocal group as 'The Six King Sisters', (even though one of them wasn't actually related.)
"At that time," Donna continues, "there were no more than three singers in any popular vocal group, so we actually were the first to have more than just the three. My sisters, Maxine, Alyce and Luise would stand at one microphone, and Yvonne, our friend Anita and myself would stand at another. One trio would sing a line of a song and the other trio would echo back to them. We'd go back and forth that way. We sang either in unison or in simple three-part harmony. It wasn't really 'close' harmony yet."
When Heidt headed east for a 1935 booking at the Drake Hotel in Chicago, he wanted to take The Six King Sisters with him, but he couldn't afford to hire all six girls, so the group was pared down to just four. Leaving the group was oldest sister, Maxine and their friend Anita. They had both recently gotten married to local boys, and didn't care to travel far from their husbands. The four King Sisters, Yvonne, Donna, Alyce and Luise were featured with Heidt on his Alemite Oil radio show, broadcasting from the Drake Hotel, and on his recordings for Brunswick Records.
During the next four years, the girls began to develop the jazz-based four part harmony, which they later became known for. Although they weren't the first vocal group to record tight, four-part harmonies with jazz-voicings, (The Merry Macs hold that distinction with their 1933 Victor recordings), they were the first female quartet to do so.
Handsome bandleader, Horace Heidt, had a stiff personality and at times spoke with a noticeable stammer, but had put together a corny, yet very commercial orchestra. He was more of a businessman than a musician, and he ran a very tight ship. "Heidt was hard to please, very strict", says Donna King. "He would get upset about something you did and then, the next thing you knew, he wouldn't speak to you. He'd never tell you what you had done that was wrong. So, he was a little hard to work with, but he definitely had connections, we were making money, and people were starting to notice us."
Heidt had a real eye for talent and his band gathered together a lot of great musicians who would later go on to greater things, like Lou Busch, Frank Devol, Frankie Carle and a young Gordon McRae. Actor, Art Carney was featured as a singer in Heidt's other vocal group, Donna and the Don Juans. Heidt also had hired a young guitarist named Alvino Rey. Although his name sounds as if he had been born south of the border, he actually had been born Alvin McBurney, in Cleveland, Ohio, and his roots are of Scotch-Irish ancestry. Before joining Heidt, he had been with the Phil Spiltany, Freddy Martin, and Russ Morgan orchestras. Both his music teacher and his father suggested that he changed his name to the more exotic 'Alvino Rey', early in his career.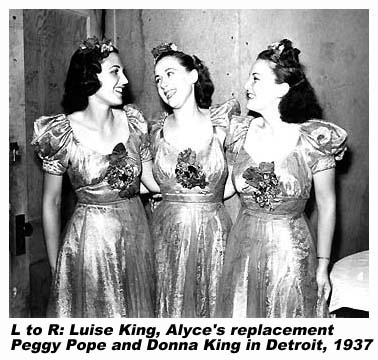 In 1937, Alvino Rey (whose last name, purely by coincidence, is Spanish for 'king') and Luise King fell in love and were married, starting a trend which later led to another King Sister success story, namely the King Family, (more on that, later). The King Sisters stayed on with Heidt for four years, until 1938 when a freak accident suddenly changed the course of their career. During a performance, just as she was leaving the stage, Alyce King's ball gown knocked her microphone stand over, and the heavy microphone fell into the audience and hit a dancer on the head. Although the woman who was hit wasn't seriously injured, she had been the wife of a prospective sponsor that Heidt had been negotiating with. Immediately, hot-tempered Horace Heidt started 'punishing' Alyce. "He cut all of her solos from the broadcasts," says Donna King, "and she had been one of the main soloists with the band. Eventually, she actually started getting physically ill because of Heidt's treatment, until finally she couldn't take it anymore and quit the band." Donna speculates, "I think that Heidt secretly went for Alyce. She was an extremely popular and beautiful girl. She was a flirt, and I think had more boyfriends than any girl I've ever met in my life! But she had no interest in Horace Heidt at all, romantically speaking, and that fact was probably the beginning of the end for her."
Alyce left to sing with the Charlie Barnett Orchestra (although she never recorded with them), and Yvonne became fed up with Heidt shortly after, heading for a solo spot with the Frankie Trumbauer Orchestra. Luise and Donna remained, and joined with singer Peggy Pope to carry on with Heidt for a short time. Eventually, Alvino Rey decided he'd had enough and also quit. Rey had been thinking about starting his own band for some time and he was anxious to play more up-to-date music.
While Rey was in the process of forming his new band, the King Sisters the four sisters reformed, and were asked to join Artie Shaw's orchestra, to the sisters' great delight. "We travelled all over the East with Artie," Donna King remembers, "and we'd do the weekly broadcast with him, when he was really at his height, this was in 1939."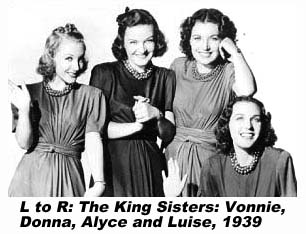 Yvonne (King) Burch recalls, "I got into a big fight with Buddy Rich, who was Shaw's drummer. He missed a beat with a Chinese gong on a song of ours called 'Chop Fooey'. We did two broadcasts for the different time zones, one for the east and one for the west. On the first broadcast he messed it up, so I told him to get it right on the second broadcast. Well, I didn't know that he couldn't read music, or that he was very sensitive about the fact, and I certainly didn't know that he was very temperamental! But by the time we got to Toronto, we patched it up. In fact, we had several dates after that.
"We were being handled by GAC (General Artists Corporation) at the time, which was one of the biggest booking agencies then, and they were mad at the Andrews Sisters over something or other. They really wanted to groom us to take their places, so we got a lot of really great bookings out of GAC."
Meanwhile, back in California, Alvino Rey landed the job as musical director at the Mutual Broadcasting Network. He immediately sent for the King Sisters. "Playing with Artie Shaw's band was a big break for us, and he was really going places," Donna King admits. "But because Luise was married to Alvino and we were all so loyal to each other, we gave up this really good opportunity to stay with Artie and instead, we left Artie and joined Alvino's new band."
Big Band Years
Because Alvino had no money and no one to 'bankroll' the formation of the new band, he convinced a young group of talented and hungry musicians to form the band, with the agreement that everyone would start out working for next to nothing, but eventually they'd all share communally in the band's future earnings. Alyce King recalled in a 1983 interview, "originally when Alvino organized in Hollywood, he set it up as a cooperative organization. My sisters Luise, Donna, Yvonne and I owned 40 per cent. The other 60 per cent was divided among Alvino and the musicians."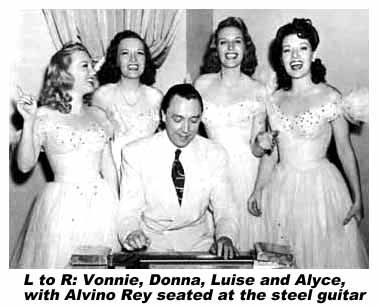 The Alvino Rey Orchestra and the King Sisters began broadcasting their performances on KHJ, in Los Angeles. RCA Victor Records promptly signed them to a seven-year recording contract. According to Luise (King) Rey, they had been brought to the label's attention by a talented young studio drummer named Spike Jones.
"We had cut one record for Bluebird, which was 'In The Mood,' says Donna. "We were the first to record a vocal version of the Glenn Miller hit, with words added. Shortly after that, we were booked into the Pasadena Civic Auditorium, which had these weekly dances that a lot of high school and college kids went to. We were shocked to see about 4000 kids show up! That's when we realized just how many people were listening to our KHJ broadcasts. The kids requested 'In The Mood' over and over again, so we sang that song again and again! We hadn't realized how popular we were becoming, because they didn't have anything like Neilsen ratings for radio shows at that time. We were absolutely floored at the response!"
The Alvino Rey Orchestra brought together a lot of young, eager and talented players and arrangers. Over the band's career these included (among many others), saxophonists Al Cohn and Zoot Sims, drummer Davey Tough, alto sax and clarinetist Skeets Herfurt, (who had been recruited from Tommy Dorsey's band), rhythm guitarist Dick Morgan (who later became an important player and singer in Spike Jones' City Slickers), trombonist and arranger Johnny Mandel, arrangers Jerry Fielding, Billy May, Frank Devol, Neal Hefti, Nelson Riddle and Ray Conniff. The centerpiece of the all the instrumentalists was Alvino Rey, himself, on electric guitar (which he claims to have been playing long before jazz guitar pioneer Charlie Christian.) It was, however, his electric steel guitar that gave the Rey organization it's distinctive sound, and although some of the band's critics called it a 'gimmick', Rey played it with virtuoso skill.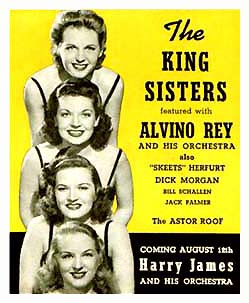 One of the bands' early hits was an instrumental called 'Mama Blues', in which Reydemonstrated his 'singing' steel guitar, which he nicknamed 'Stringy'. By manipulating the tone and volume controls on the instrument while he played, Rey was able to make the guitar sound as if it were saying simple words. Later, the effect was greatly improved when his wife, Luise King, stood out of sight backstage with a small plastic tube that connected to Rey's amplifier. With the tube in her mouth, she then formed words with her lips as Alvino Rey played chords, the sounds of which were picked up by a microphone. With the device, Rey and King were able to create eerie vocal sounds in four or five part harmony, seemingly coming from his steel guitar. In the 1970's, guitarist and singer Peter Frampton popularized the device on his album, Frampton Comes Alive. Few rock and rollers knew, however, that Alvino Rey, who had always been something of an amateur electronics enthusiast, had invented and used the device some thirty-five years earlier, during the big band era. The Rey band and the Kings were booked into the Biltmore Hotel in New York City, familiar territory since they had performed there for a long stint with Horace Heidt. The manager of the Biltmore thought of the Rey band as Horace Heidt alumnus, and expected the same kind of music. He insisted that the band keep the volume down, much to the band's disappointment. Their reception at The Biltmore was the total opposite from what they had just gotten in California. "The hotel was used mainly by older businessmen and retired people," continues Donna. "They were used to a more sedate kind of music. Hardly anyone was there, and the manager insisted that we only play quiet numbers. The boys had to mute their trumpets. We couldn't play any of the really good, hot swing numbers that we specialized in. Here we had this high-energy band with lots of personality and we were dying there! We were so depressed. The only good thing about it was that after our shows, we could go down the street and hear Tommy Dorsey or Woody Herman or one of the other really great bands. We were so envious of their young audiences, who were all these young college kids!"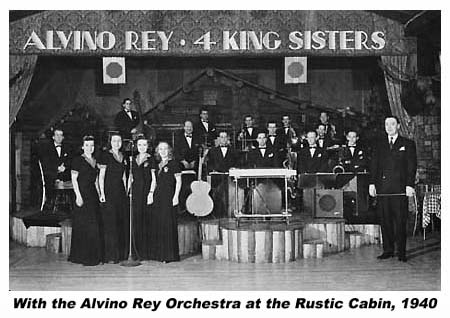 The girls had leased a house in Yonkers during the Biltmore engagement, anticipating a long run there. Homesick for their parents, the girls convinced their parents to drive back East with their two youngest children to spend the summer at the house with them, reuniting as a family. Eighteen year-old Yvonne King and Rey pianist, Buddy Cole, had become an item and with her parent's hesitant blessings, the young couple was soon married. Buddy Cole had gotten his start in vaudeville playing piano behind another sister act, The Gumm Sisters. The youngest Gumm sister, Francis, later changed her name to the more recognizable Judy Garland.
"One night, while we were playing at the Biltmore, " says Donna, "this young kid named Stuart Woodruff came in, who had
heard some of our radio broadcasts and knew we could really swing. We were delighted to see someone come into the club who was actually from our own generation! He bounced straight up to the bandstand and demanded that we play 'Tiger Rag', which was one of our hottest numbers. Alvino was so bored and frustrated with the music we'd been forced to play, that he thought for a few seconds, then turned to the band and said 'okay, let's play it!' Out came the mutes from the trumpets and band went into it, loud and fast and wild!"
Earlier in the evening, the manager had retired to his room, where he was getting ready for bed when he heard this huge, powerful, blasting music from the Biltmore Roof. He rushed upstairs, still in his bathrobe, to where the band was just finishing the number, and angrily marched up to Rey. After a short, animated conversation with Rey at the side of the room, he promptly fired the band. No two-week notice was given, and the band was left high and dry in New York City with no money and no immediate prospects for work. Under the circumstances, the band was delighted to be leaving the dreary engagement.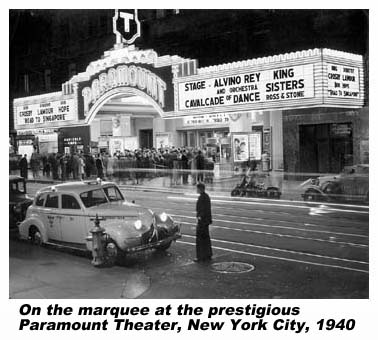 After some scuffling around New York City, they ended up at the Rustic Cabin, a cozy nightclub and restaurant in Englewood, New Jersey, where a skinny Italian kid named Frank Sinatra had been discovered just a few months earlier. The Kings and the Rey band rented a large gangster-owned house near the Rustic Cabin that they communally shared and affectionately nicknamed 'Chateau D'Crock.' "It belonged to some bootleg king', said Alvino Rey in a 1967 interview. "The guys in the band were making only thirty-five dollars a week, and the Sisters and I were getting only thirty, so to save the commuting money to New York, most of us lived there." The band stayed at the Rustic Cabin for nine months, and it was during their stay there in 1939 that Alyce and Donna met their future husbands, Syd De Azevedo and Jim Conkling, respectively. (After De Azevedo passed away unexpectedly, Alyce's second marriage was to Robert Clarke, whose work as a film director, writer and actor has produced such sci-fi cult classics as She-Monster and Beyond The Time Barrier.)
Although the band was making next to nothing, money-wise, ("We were paid in spaghetti at one place we played!," Donna King recalls,) the public exposure they received from their WGN broadcasts from the Rustic Cabin was invaluable. It was the perfect place for the band to develop, because unlike the Biltmore, the management at the Rustic Cabin left the band alone. They were able to play what they wanted, and the kids who packed the place went crazy for both the Alvino Rey Orchestra and the King Sisters. The band agreed to be on stand-by, so that they could gain valuable air-time in case any of the ballgames usually broadcast over the station were rained out.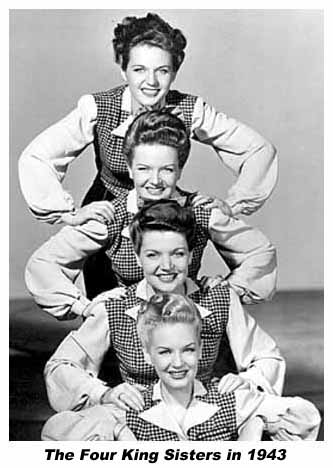 Their next big break came when the King Sisters received a call to fill in for Dinah Shore, who had suddenly lost her voice while playing with Charlie Barnett at the Paramount Theater in New York. To the King Sisters' great surprise and delight, the kids in the audience knew all their songs and called out their favorites over and over. Just as had happened back in Los Angeles, their radio broadcasts had made them big radio stars without their knowing it. The kids wouldn't let them leave the stage. "We'd had so many ups and downs," Donna says " that we didn't know what to expect, but fortunately, when the curtain went up, the kids knew us from our Rustic Cabin broadcasts and we were a big hit. From that point on, whenever we went out on the road, we had a lot of great successes."
During this period, (1939-40) the King Sisters were asked by Glenn Miller to join his extremely successful orchestra, but once again, because two of the sisters were married to members of the Rey Orchestra, and they were first and foremost a family, they regretfully had to decline. They were also instrumental in connecting their friends, The Pied Pipers, with the Tommy Dorsey Orchestra.
The King Sisters and the Alvino Rey Orchestra began recording for RCA Records on their budget subsidiary, Bluebird in 1939. The girls officially became known as 'The Four King Sisters' to set them apart from the many other sister vocal groups of the day. Besides their vocal work as a quartet, bandleader Rey regularly featured Yvonne (soprano) and Alyce (alto) as soloists. These Bluebird recordings represent the King Sisters' best work, and a long string of discs for the label followed.
The girls' lively personalities became just as important as the songs they were singing. "We used to call 'Vonnie' (Yvonne) our 'money' singer," recalls Donna King. "During rehearsal she'd be goofing off and clowning around, but as soon as that red light went on in the studio, or if we were in front of an audience, she'd give her 'all' like a champ. Alyce, on the other hand, was always more interested in pleasing the musicians in the band. If she could get looks of approval from the musicians after she'd just sung a solo, that was her big kick."
Most of their vocal arrangements in the 40's were done by either Frank DeVol or Billy May, two arrangers who would later go on to become two of the top arrangers and conductors of the 50's and 60's. The girls had a lot of input, however, in the final charts. "We would sit around the piano with Billy or Frank and try out different ideas, and then they'd write the parts out", says Donna King. "We girls really should have been arrangers," adds Yvonne King, "we knew how to arrange, but we just didn't have the technical education to do it."
Part of their unique sound was due to the fact that Donna and Alyce King could sing remarkably low harmonies, actually in a 'male' range. This gave the group a distinctive, yet definitely feminine quality. All of the girls were also excellent 'sight-readers', thanks to the early training they received from their father, and could pretty much run through a new arrangement once, then record the song, usually in the first take. And of course, they had the kind of vocal blend that only siblings can have with each other.
Most of the material they recorded in the 40's fall into the 'novelty' song category. "The A&R man at RCA Victor was really novelty-happy, and he never really gave us a chance to do much except novelties, " Yvonne says. Unfortunately, a lot of these songs aren't very strong. But even when challenged with less than top-notch material, the sisters sang with such pizazz and effortless quality, that it's easy to forget when the song itself is weak. When they did a great song such as 'San Fernando Valley' or 'Miss Otis Regrets', the result is noticeably outstanding.
By 1943, the Alvino Rey Orchestra with the King Sisters were playing top venues and finally making good money. Alvino Rey and his Orchestra would always close their concerts and radio programs with a tune called 'Nighty-Night', sung by Yvonne King. During a 1977 tribute dinner to the King Sisters in Los Angeles, Frank Devol recalled, " Every GI in WWII heard that song on Armed Forces Radio, just before going to bed. It was even played by Tokyo Rose (who beamed American pop music and Japanese propaganda at American overseas servicemen). It was her sign-off theme. She'd play it and then ask the men in the South Pacific Theater of Operations, 'Don't you wish you were home, fellas? Home listening to Yvonne in person instead of being way out here fighting the Japanese?'"!
Yvonne King used to love to joke to concert audiences in the 1970's and 80's, that during the war she personally sang every American soldier to sleep.
Both Alyce and Yvonne became pregnant during 1943. "In those days, it still wasn't totally acceptable for women to be seen in public when you were pregnant," says Yvonne. "We tried to hide it as much as possible. I think people just thought I'd gotten a little chubby!"
The band's newfound success all ground to a halt when the Rey organization was hit hard by the WWII draft. Alvino eventually broke up the band, and the entire undrafted remainder of the band, Rey included, went to work as factory workers on the night shift at Lockheed Aircraft's plant in Burbank. Inevitably, one by one, the former band members were either drafted or voluntarily joined the military.