---
How Vinnie Bell came to play on The Bassett's single,
"A Little Love From You" on Mercury Records in 1966
by Vinny Rosa
In 1963, my grandmother gave me a 15th birthday party at her house in Brooklyn, and invited friends and neighbors which included Vinnie Bell's parents. Because I was so into music and had a band of my own in which I played the drums, Vinnie Bell was invited to hear me play at the party with my band, The Royal Tempos. Vinnie was already a successful recording artist who played on Little Peggy March's "I Will Follow Him", Lou Christie's "Two Faces Have I," and many other hits. I was told that Vinnie was sorry he couldn't come to the party because he had to fly to the west coast for a recording date. I was disappointed, but Vinnie's mom, Antoinette, began writing me and keeping me up to date on Vinnie's recording career and the inventions he made for guitar. His mother also wrote me that school was important and not to lose sight of that.
True, but at the time, it was more important for me to meet the famous guitar player Vinnie Bell, and find out his secret to playing on hit records. I mean, after all, I wanted to be a rock and roll star! The next garage group for me was The Lords Four in 1964. It was the height of "Beatlemania!" The band got an opportunity from Bugs Bower (a Capitol Records producer) to back a girl named Donna Lynn who had a minor hit called "My Boyfriends Got a Beatle Haircut". It didn't hurt us that our lead guitar player Frankie Porcelli was Donna's cousin. We met Murray the K, Jackie the K and The Four Seasons, Randy and the Rainbows, and Diane Renay at the Astor Hotel in N.Y.C.! I was getting closer to Vinnie Bell. I was in his territory. Soon, I felt, I would meet him. That ended pretty quick. By the end of 1964, there were no other hit records for Donna Lynn. It was back to the minor leagues for me.
Then, in late 1965, opportunity knocked again. Tony Amato needed a drummer, heard about me through his bass player and called. He was a guy who had a hit record called "Cruise to the Moon" by The Chaperones. He was starting a British style "Beat Group" called The Bassetts (animal names were popular then). Artie Kornfeld, a Mercury Records producer, who later became famous for Woodstock and producing The Cowsills, wanted to record Tony and possibly
make him a comeback record using the British-inspired "A Little Love From You" as the vehicle.
So, The Bassetts were created and we recorded "A Little Love From You," written by Artie Kornfeld and Steve Duboff, and ''So Bad," written by Tony Amato. While in the studio, (Mira Sound in N.Y.C), Artie Kornfeld decided he wanted to overdub the new "FUZZ" guitar sound onto "A Little Love From You", so he called Vinnie Bell, directly from the studio, and I overheard the conversation. "Vinnie Bell?", I said, surprised. "We're cousins - goombadas!"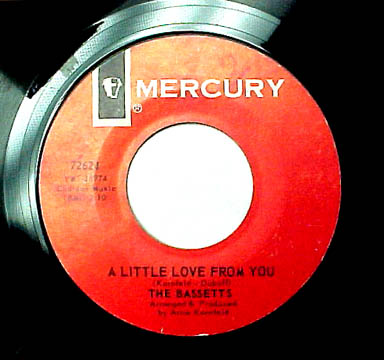 After convincing Artie that I knew Vinnie Bell, Vinnie told him to put me on the phone. After all those years, I finally got to talk to Vinnie Bell! Better yet, he was going to play on our record! He was very nice and encouraging to me! So, in the "swinging sixties", Vinnie Bell and I finally spoke and indirectly played together on the same record through the magic of overdubbing. Soon I hope.... He'll finally come and see me play!
Today I play drums and sing with THE ROCKINGHAMS! We are a band dedicated to playing and preserving the "BRITISH INVASION OF POP" - a sixties tribute band! So I've come full circle!
Please visit me at: WWW.ROCKINGHAMSIXTIES.COM and let me know you saw this on the Vinnie Bell website.
- Vinny Rosa
Listen to "A Little Love From You" by The Bassetts, featuring Vinnie Bell on fuzz guitar here.
---
Back to