---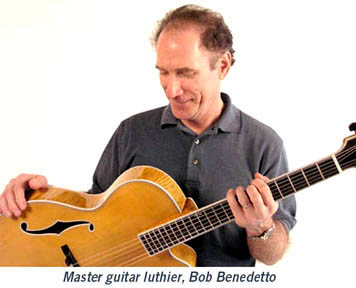 "As a kid growing up in northern New Jersey, I remember hearing Vinnie Bell's name all the time. I heard he was not only a great session player, but also a guitarmaker.

Eventually, I discovered that he did more than just make guitars...he was an innovator. He tailored the instrument to enhance and compliment countless music venues. He did it all....and still does! What an inspiration!

Thanks, Vinnie!"

- Bob Benedetto

Benedetto Guitars
Roberto-Venn School of Luthiery
---
Lorri Hafer
is a fantastic singer, and daughter of my dear friend, Mary Mayo. With her husband Mike, and son Paul, they have a terrific jazz trio.
Nathan I. Daniel
was the founder of Danelectro Guitars. Read his biography, as written by his son Howard.
Bill Crow
Bill Crow is a great bass player and has a great book out, too.
The Official Rory Gallagher Web Site
Rory is one of Vinnie's favorite rock guitarists.
Sinner Boy
Excellent UK-based tribute band to musician Rory Gallagher.
The Three Suns Universe
Vinnie was a member of The Three Suns at one time.
Mambo Gee Gee article by Stuffed Animal Vinnie has played with some of the best Latin and Cuban bands.
The Rockinghams
The ultimate retro-rock tribute band!
Jean Jacques Perrey
My dear friend and colleague from the '60s, with whom I recorded so many Vanguard albums.
Dana Countryman If you've ever wondered what a gigantic ball of talent is... take a look at Dana's site!
(By the way, Dana is also my talented webmaster!)
More links coming soon!
---
Back to